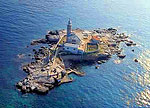 Savudrija was built in 1818. and is the oldest lighthouse in the Adriatic. This most northern Croatian lighthouse is situated right next to Slovenian border and only 56 km south of Italian town Trieste.

The lighthouse Rt Zub (Cape tooth) was built in 1872. It is equally distant (13 km) from Porec in the South and Novigrad in the North.

St. John lighthouse was built in 1853. It is located on the most distant islet of the small archipelago in front of Rovinj. This islet is actually a 70 x 50 meter rock with a relatively easily accessible shore and shallow waters, which makes St. John an ideal destination for families with children that would like to spend a Robinson Crusoe type of holiday.

Porer lighthouse was built in 1833. on the islet of the same name, southwest of Istria's southernmost cape. The islet is an 80 m cliff, 2.5 km from the mainland and the small town of Premantura.

Veli Rat (Dugi otok), The lighthouse was built in 1849 on the southwestern cape of the island of Dugi otok, 35 km west of the city of Zadar.

The islet of Prisnjak is only some 300 m from the western coast of the island of Murter. In 1886., a lighthouse was built on the islet in order to make it easier for seamen to navigate in the Murter archipelago.

St. Peter lighthouse was built in 1884 on the peninsula of the same name that is placed at the entrance to the town of Makarska, in the vicinity of one of the most beautiful beaches on the Adriatic. The lighthouse is a 20 minute walk from the center of Makarska and is 85 km from Split Airport. An asphalt road leads to the lighthouse.

Plocica lighthouse, built in 1887, is placed on the island of the same name between the islands of Korcula and Hvar.

In the middle of the southern side of the island of Lastovo, at the entrance to the bay of Skrivena Luka lies the Cape of Struga where the lighthouse of the same name was built in 1839.

The island Susac is surrounded by endless open sea that makes you feel completely secluded from the rest of the world. When seen from distance, it seems as though Susac consists of two islands.

Palagruza lighthouse was built in 1875 on the island of the same name, placed in the middle of the Adriatic sea, between the Italian and Croatian coasts, 68 NM south of Split and 26 NM south of the island of Lastovo. This island of exceptional beauty is Croatia's furthest island. The island itself is 1400 m long, 300 m wide and 90 m high, and is covered in Mediterranean vegetation.