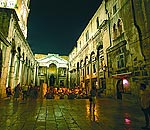 Accommodation in
heritage towns in Croatia

Croatia is famous for its rich history and monuments in the centuries old towns along the Adriatic coast. Even many of the monuments are listed in the UNESCO world heritage register. Especially for you we have selected private and hotel accommodation in the centres of the most attractive heritage towns in Croatia like Rovinj, Sibenik, Trogir, Split, Hvar, Korcula and of course Dubrovnik.

Choose your favourite heritage town and book a hotel room, private lodging or apartment in its historic centre and be one with the city.

Split, an ancient Roman city, developed from Diocletian's Palace which was built by Roman emperor Diocletian more than 1700 years ago. The emperor had this massive palace built to spend the last years of his life after abdication. Diocletian's Palace and many other monuments from the Roman times are still preserved. Today Diocletian's palace is unique in the world because it is still inhabited. Life has been going on in the palace for some 1700 years.

Trogir, a small town near Split, is known for its old town centre and the Romanic portal on the entrance to the St. John's cathedral which is protected by the UNESCO. It is also famous for its vivid summer nights.

Dubrovnik, the pearl of the Croatian Adriatic, is included in the UNESCO's World Heritage register, and there are 1436 protected historic buildings that testify about it.
The historic city of Dubrovnik, the former centre of the Republic of Dubrovnik, is surrounded by a 2-kilometer-long city walls that have protected the city for centuries from the attacks from the land and from the sea. A most wonderful city developed within the walls with its numerous churches, palaces, cultural monuments and the Stradun, the famous promenade, where you can see people from all over the world, young and old alike, which was the scene of all major happenings in the past.